We admire, gossip and even gloat over the latest trends in both fashion and beauty. But what about the foundation, the anchor to our every day fashion?
That's right my kitty cats, today is all about unmentionables.
I'll tell you, I am no perky b-cup. I need the wires, the harness, the double back strap with the nails and chains to keep these puppies from causing a national disaster. Being that I need lots of help underneath it all, I've decided not only will I be seen in the most fabulous outfits, I will also do a favor to myself, my gyno and maybe my husband (Whatever, who cares) and remain fabulous underneath as well.
I'm a collector of antique tea pots and tea cups so this is the most adorable set to me. Found at
Miss La La Presents.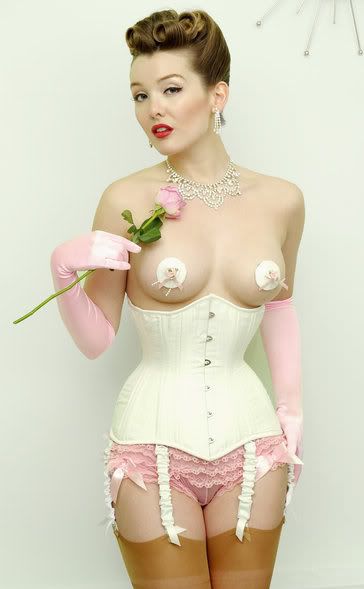 Don't even. This is sophisticated, gorgeous and I may wear it to the gym tonight. Found at
What Katie Did.
So in love with this. A sumptuous gold brocade on a gorgeous ivory backdrop, great for gardening on a hot day! Found at
Maya Hensen.
Kiss Me Deadly
The peach vargas dress gives a medium to firm control when worn underneath clothing, but is still sexy enough to be worn alone. Found at
Kiss Me Deadly.